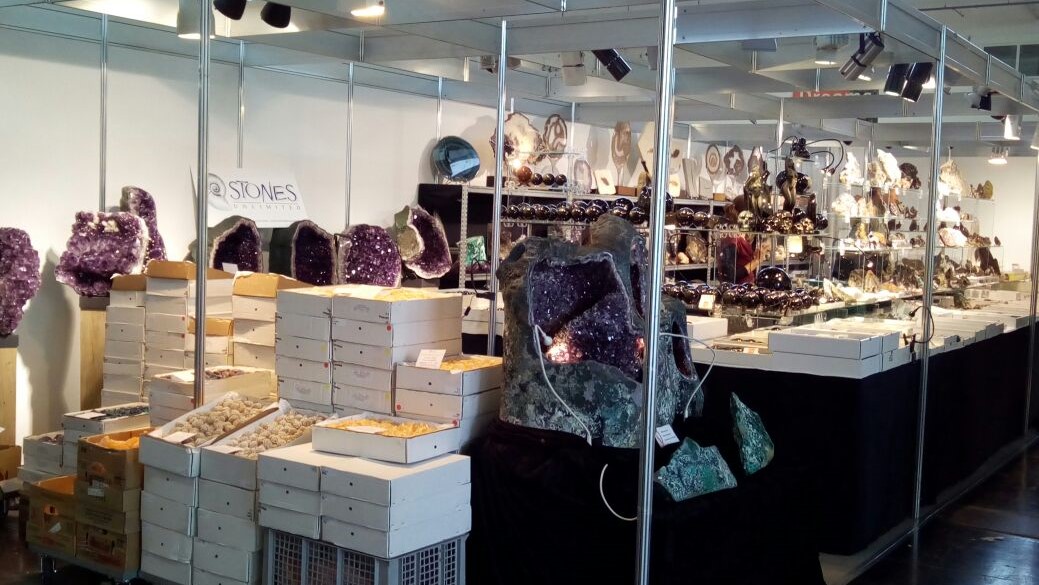 Are you interested in specimen from my online offer, but you prefer to see them "live" before you decide to buy? If so please just tell me briefly which specimen you would like to see and I bring it to one of the shows - of course without obligation.
I will be participating in the following Mineral and Fossil Shows:
!!postponed indefinitely!!
4.+5. April 2020 Den Haag / The Netherlands
75. Mineralien- & Fossilienbörse; 10-17; GIA trade & exhibition Centre, De Werf 11, 2544 EH Den Haag. V./A.: Nederlandse Lapidaristen Club, E-Mail This email address is being protected from spambots. You need JavaScript enabled to view it.. Aus. 68, Bes. 1700. Sonderschau. E.: 7,- €, Kinder (5-12 J.) & Senioren (65+) 3,50 €. 
!!cancelled!!
9.+10. May 2020 Antwerps/Belgium
45. Mineralien- & Fossilienbörse MINERANT 2020; 10-18; Antwerp Expo, Jan Van Rijswijcklaan 191, 2020 Antwerpen. V.: Mineralogische Kring Antwerpen. A.: P. Bender, Pieter Van den Bemdenlaan 107, B-2650 Edegem, Tel. +32 3 4408987, E-Mail This email address is being protected from spambots. You need JavaScript enabled to view it.. Aus. 110, Bes. 2500. Sonderschau. E.: 4,- €, bis 12 J. frei.

!!cancelled!!
25.-28. June 2020 Sainte Marie aux Mines/Elsass/France
57. International Show Mineral & Gem; Do-Sa 9-19, So 9-18; 25.+26.6. Fachbesuchertage; 27.+28.6. Publikumstage; V.: SPL "Evènementiel en Val d'Argent". L./A.: J. Patris, Tel. +33-(0)389-735352, E-Mail: This email address is being protected from spambots. You need JavaScript enabled to view it.. Internet www.sainte-marie-mineral.com. Sonderschau.
30.October.2020  München/Germany 57. GEOFA: Fachhandelstage der Münchner ­Mineralientage; 9-19; Messe München-Riem.
31.October-1.November.2020 München/Germany
"The Munich Show" 57. Börse der Münchner Mineralientage; 9-18; Messe München-Riem. V: Mineralientage München Fachmesse GmbH, Postfach 1361, 82034 Oberhaching, Internet www.munichshow.com. A: Ch. Keilmann, Tel. 089-6134711, Fax -6135400, E-Mail This email address is being protected from spambots. You need JavaScript enabled to view it.. Goldwaschen, Fossilien-Präparieren, Edelsteine schleifen, Sonderschau: Energie.
14.-15. November 2020 Luxemburg
32. Luxemburg Mineral Expo; 10-18 Uhr; Luxexpo The Box, Exhibition & Congress Center, Luxemburg-Kirchberg. V./A.: Steenhaus Sarl., J. Wolff, 12, Millescheck, L-6834 Biwer, Tel./Fax +352-710512, Mobil +352-621621922, E-Mail This email address is being protected from spambots. You need JavaScript enabled to view it.. Internet: www.mineralexpo.lu